Local News
Desist From Running To Emergency Scenes – GNFS Advises Public
The Ghana National Fire Service (GNFS) has advised members of the general public to desist from running to emergency scenes.
In a press statement dated February 8, GNFS Director of Public Relations, T. Osafo-Affum noted that persons who troop to emergency scenes risk injuring themselves, leading to "mass casualties."
The Service noted that during accidents, "there is often spillage of fuel and other dangerous combustible substances. These could cause life-threatening incidents such as explosions."
For that reason, "we entreat all well-meaning Ghanaians to help educate the general public to desist from always running to emergency scenes."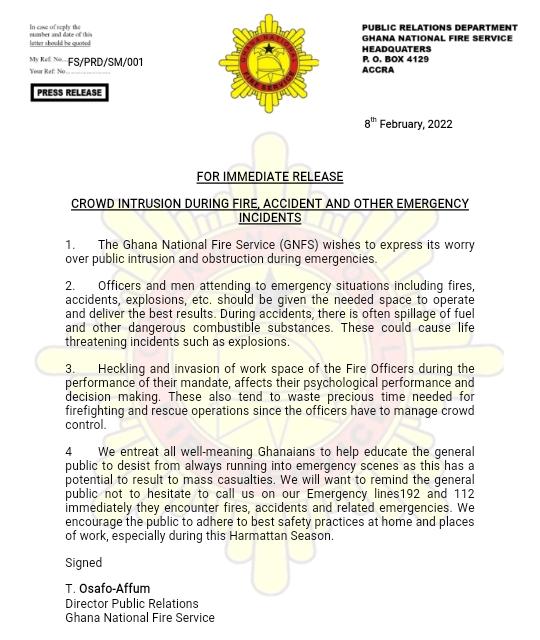 Furthermore, the Fire Service has noted that the intrusion by the public prevents its personnel from carrying out required immediate actions to address the issue or provide relief.
Also, "heckling and invasion of workspace of the fire officers during the performance of their mandate affects their psychological performance and decision making."
According to the Service, such actions tend to waste precious time needed for firefighting and rescue operations since the officers have to turn their attention to managing the crowd.
To avert such challenges, the public has been urged to reach out to the Fire Service on their emergency lines 192 and 112 immediately they encounter fires, accidents and related emergencies.
"We encourage the public to adhere to best safety practices at home and places of work, especially during this Harmattan Season," it added.
The caution from the Ghana Fire Service follows the Appiatse explosion that claimed the lives of 14 and injured many.
Videos circulating on social media showed onlookers approaching the truck engulfed by fire to take pictures and videos.
According to reports, onlookers close to the scene were severely injured.
#Ahenkanfmonline.com / 93.3 FM