Local News
'Double Track System Has Hot Been Abolished Completely' – Ministry of Education
The Education Ministry's Spokesperson, Kwasi Kwarteng, has explained that the Double Track system of the Free Senior High School policy has not been completely abolished.
In a Twitter post on Friday, he explained that "double track is not completely abolished. We have eliminated double entry of Form One and Form Two students."
"What it means is that all Form One and Form Two students will go to school each as one cohort not divided into two," he clarified.
Mr. Kwarteng noted that measures have been put in place by the government to ensure that there is enough infrastructure in schools to guarantee the complete scrapping of the policy.
"As more school buildings are completed, entire school populations will report to school at the same time as one cohort as it pertains in Single Track schools," he stressed.
His comments follow media reports in which the Deputy Education Minister, John Ntim Fordjour is said to have announced the suspension of the initiative.
Mr. Ntim Fordjour is reported to have said in an interview on Accra-based Okay FM that there will no longer be red, yellow and green tracks as obtained previously.
"Arrangements have been made to ensure that more infrastructure is provided in schools to absorb more students and ensure that more students are admitted into the free senior high school programme."
"Schools without enough facilities to absorb the current system will have only one batch to be on vacation; that is, if first years are on vacation, you still have second and final year students still in school," he said.
Re-opening dates for schools
Meanwhile, the Ghana Education Service (GES) has announced February 7, 2022 as the reopening date for second and third-year Senior High School (SHS) students.
A press statement signed by the Public Relations Unit of the Service on Wednesday stated that first-year students are expected to report to school on a tentative date of April 4, 2022.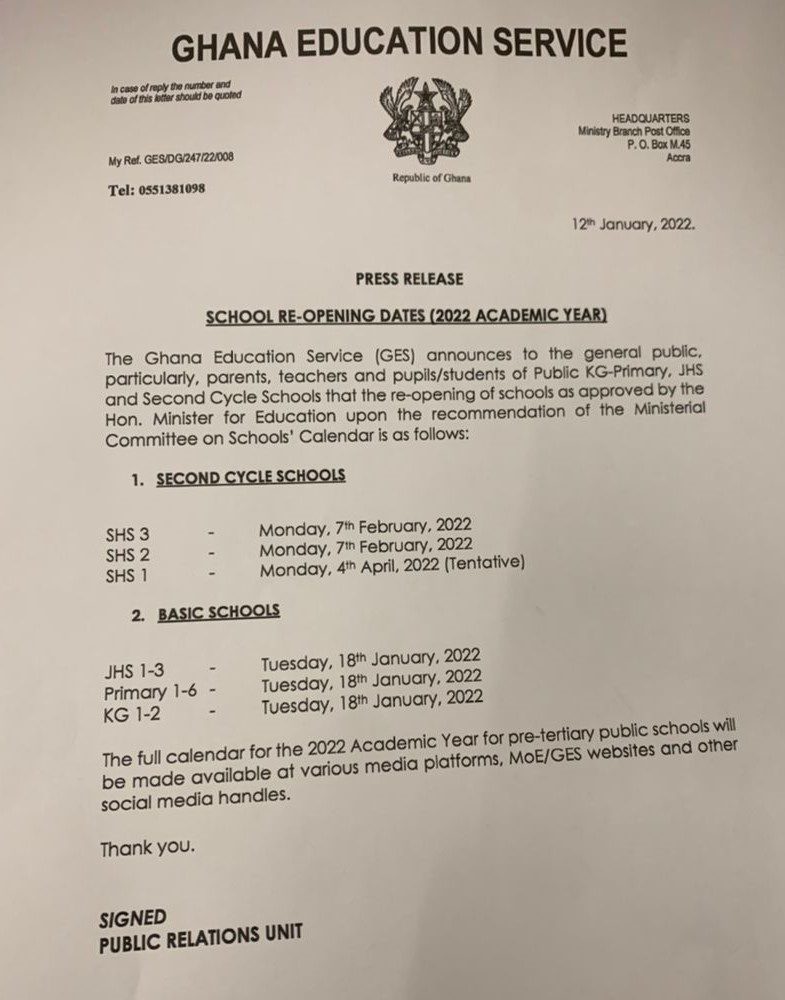 Also, students in primary schools will report to school on January 18.
According to the GES, the Education Minister approved the reopening dates upon recommendation from the Ministerial Committee on School's calendar.
#Ahenkanfmonline.com / 93.3 FM