Local News
Lands Commission Officers, Judges And Immigration Officers Received Largest Cash Bribes In 2021 – GSS
Lands Commission officers, prosecutors, judges or magistrates and immigration officers are the top three categories of public officials who received the largest cash bribes paid in 2021.
This revelation is according to a survey conducted by the Ghana Statistical Service (GSS) and the Commission on Human Rights and Administrative Justice (CHRAJ). The survey is dubbed, '2021 Ghana Integrity of Public Services Survey'.
According to the report, the average highest cash bribe [GHc1, 669] was paid to Lands Commission officers, followed by prosecutors, judges or magistrates with an amount of GHC1,208 and GHC950 for immigration officers.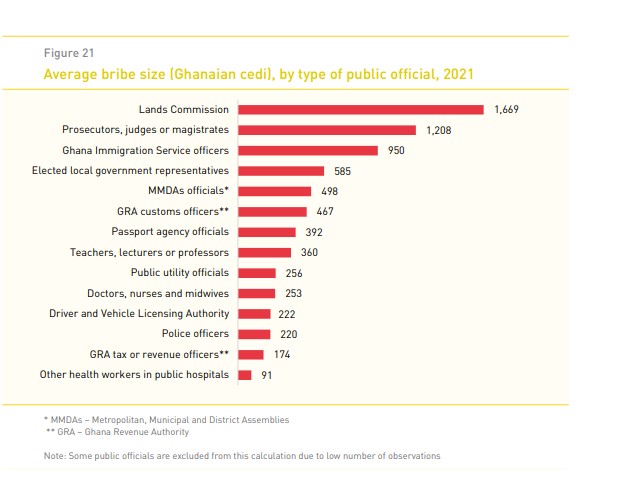 With these findings, the report suggests that "the largest average bribes are paid to public officials with whom most citizens have little contact in their daily lives."
These large bribes, the GSS and CHRAJ said although rarely paid, generally "influence important decisions by public officials, which can have substantial economic or personal consequences (for example, by influencing land-related decisions, immigration matters, or prosecutors and judges)."
It highlighted that the smaller cash bribes paid are mostly given to public officials who engage frequently with members of the public.
"Conversely, the dynamics behind smaller bribes seem to be related to public officials with whom people have more frequent contact (such as police officers, and health care workers, public utility officials) as well as to bribes that are paid to avoid moderate fines or sanctions, to maintain utility connections or to reduce tax payments," the report added.
The survey also revealed that about GH¢5billion in bribes were paid in both the private and the public sectors.
It disclosed that 26.7% of public sector officials were engaged in bribery acts, whilst 9.1% were officials from the private sector.
According to Government Statistician, Professor Samuel Kobina Annim, the report indicates that corruption is prevalent within the Ghana Police Service.
#Ahenkanfmonline.com / 93.3 FM