Madina representative in Parliament, Lawyer Francis Xavier Sosu is leading youth in the constituency to go on rampage over alleged deplorable state of roads in his constituency.
The aggrieved youth clad in red with the MP as a leader blocked roads amidst burning of tyres in the middle of the roads as a way of communicating their grievances during the demonstration organised by the MP.
According to them, the Ayi Mensah to Danfa Road is in deplorable state although they pay taxes.
"We pay tax every day and the toll booth is even situated here. They take all this money from us yet they can't fix our roads for us. Why then do we vote them into powers if they don't fix it we will block the roads", one of the demonstrators stated.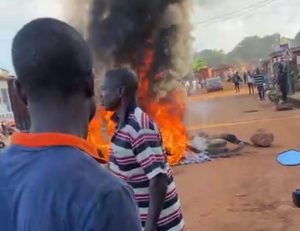 One of the leaders championing the demonstration also said that they've used several means to send their message across to the government yet they haven't done anything to resolve the issue.
"We've tried to let them know the state of the roads here but they haven't done anything to change the issue, hence our demonstration today", he added.
Speaking in the same vein, the Vice-Chairperson for the Roads and Transport Committee, Alex Tetteh Djornubuah explained that the government does not create a budget for roads from its coffers.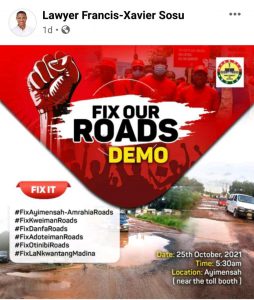 "There's no government that can boast of budgeting for roads in the country, we mostly go for loans from Western countries and sometimes the conditions attached to the loans discourage the government ", he added.
He encouraged that, organizing demonstrations are civil rights hence the residents should voice out whenever they feel unsatisfied in the country.
"Demonstration is their civil rights so there's nothing wrong with it, whenever we feel things aren't being done right we have to voice out"
He assured that the government is working towards fixing poor roads in the country, the process may seem slow but they will tackle it all.
"We have fixed most of the roads in the country but we know there are more and people have to understand that we can't do it all at once but the government is on it", he said.
#Ahenkanfmonline.com / 93.3 FM