Local News
NDC PC Donates Building Materials To Communities In The Achiase Constituency
The National Democratic Congress (NDC) Parliamentary Candidate for Akim Achiase in the forthcoming 2024 general elections, Hon Samuel Owusu Brako has presented two bundles of roofing sheets and bags of cement to two communities in the Constituency.
The beneficiary communities are: Duoko and Akomasi

Donation to the Traditional Council of Duoko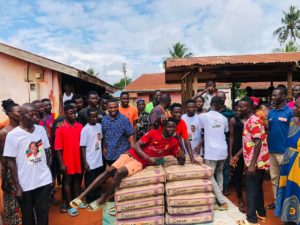 Hon Samuel Owusu Brako,together with the leadership of the Youth Wing, the Communication Bureau amongst other Executives of the Constituency made a donation of two bundles of roofing sheets to Duoko Traditional Council to help complete their community center project.

He reiterated that provision of the building materials and other logistics will help fast track the completion of the project because it is very dear to him.
Donation to the Akomasi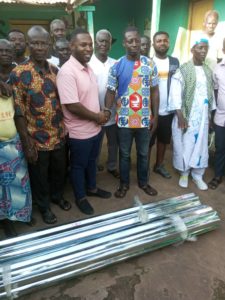 The Parliamentary Candidate, Mr Samuel Owusu Brako, has also donated 20 bags of cement to Akomasi community.

The donation of the cement to the Akomasi community is to support in the construction of some bridges within the township.

According to him, the donation formed part of his commitment to ensuring that his constituents are served in all diverse ways.

He stated in his address that development is the first point of contact for the residents in the constituency.

The receptive community engagement also offered the parliamentary Candidate the opportunity to share his vision with the people of Akomasi as he seeks to become the next Member of Parliament for the constituency .

Mr. Samuel Owusu Brako also discuss issues of development and employment opportunities for the constituents more especially the teeming unemployed youth, and therefore added that when given the nod as the Member of Parliament, he will do double his efforts to nib those problems in the bud.
He further added that this community engagement forms part of his broader vision to engage all relevant stakeholders and constituents so that he can have first hand information about the problems and find the way afterward.

He charged the beneficiary communities to make good use of the items and expect more from him by voting massively for the NDC presidential candidate, His Excellency,John Dramani Mahama and also elect him as the MP in the upcoming general elections.
Appreciation

The Chief of Duoko Nana Samuel Owusu Oguaa IV and his people could not hide their joy about his kind gesture, and accordingly thanked him for pursuing the development agenda in the constituency.
The leaders of the Akomasi also thanked Mr. Samuel Owusu Brako for his benevolence and promised that they would put the items donated to good use.