Politics
#NPPDecides: Bawumia Takes Early Lead In NPP Super Delegates Conference – Check Provisional Results
Vice President Dr. Mahamudu Bawumia has taken an early lead in the New Patriotic Party (NPP) super delegates conference.
Results trickling in indicate that Bawumia has garnered more votes across the country with Kennedy Agyapong and Alan Kyerematen trailing the vice president.
The Super Delegates Congress is being held to elect five presidential aspirants to contest the party's primaries in November this year.
The five aspirants who secure the highest number of votes will go on to contest the primaries, where they will compete to become the NPP's flagbearer for the 2024 general election.
Bawumia is the incumbent vice president and is seen as the frontrunner in the race. He is backed by a number of powerful figures within the party.
Kyerematen is a former trade minister and is also seen as a strong contender. He is backed by a number of businessmen and other influential figures.
Kennedy Agyapong, is a controversial figure, but he is also a popular one. He is known for his outspokenness and his willingness to challenge the status quo.
The NPP is currently in power in Ghana, and the winner of the primaries will be the favourite to succeed President Akufo-Addo, who is constitutionally ineligible to run for a third term.
Provisional Results
YMCA ACCRA
Kennedy Ohene Agyapong – 15 Votes
Alan John Kyerematen – 14 Votes
Joe Ghartey – 0 Votes
Kojo Poku- Votes 0 Votes
Dr. Afriyie Akoto – 3 Votes
Francis Addai-Nimo – 1 Votes
Boakye Agyarko – 1 Vote
Dr. Mahamudu Bawumia -36 Votes
Kwabena Agyepong – 1 Votes
Central
Bawumia – 25
Alan – 14
Akoto – 3
Ken – 19
All got 0
Ahafo Region
DMB 13
KEN 10
ALAN 3
AKOTO 2
Headquarters
Kennedy 15
Alan 14
Kwadwo 0
Akoto 3
Boakye Agyarko 1
Addai Nimoh 1
Bawumia 36
Kwabena Agyepong 1
VOLTA
Ken 4
Alan 4
DMB 29
North East
DMB – 28/28
100 percent!
Savannah Votes
Hon Kennedy Agyepong – 7
Alan K- 1
Boakye Agyarko – 1
Dr Bawumia – 19
Reject – 2
Others Zero(0)
Total Voters = 30
Upper East Region
Bawumia = 31
Ken = 3
Alan = 1
Akoto = 1
Upper West
Bawumia 23
Akoto 3
Alan 4
Kennedy 2
Joe Ghartey, Kwadwo Poku, Kwabena Agyepong, Addai Nimoh, Konadu Apraku and Boakye Agyarko all scored zero.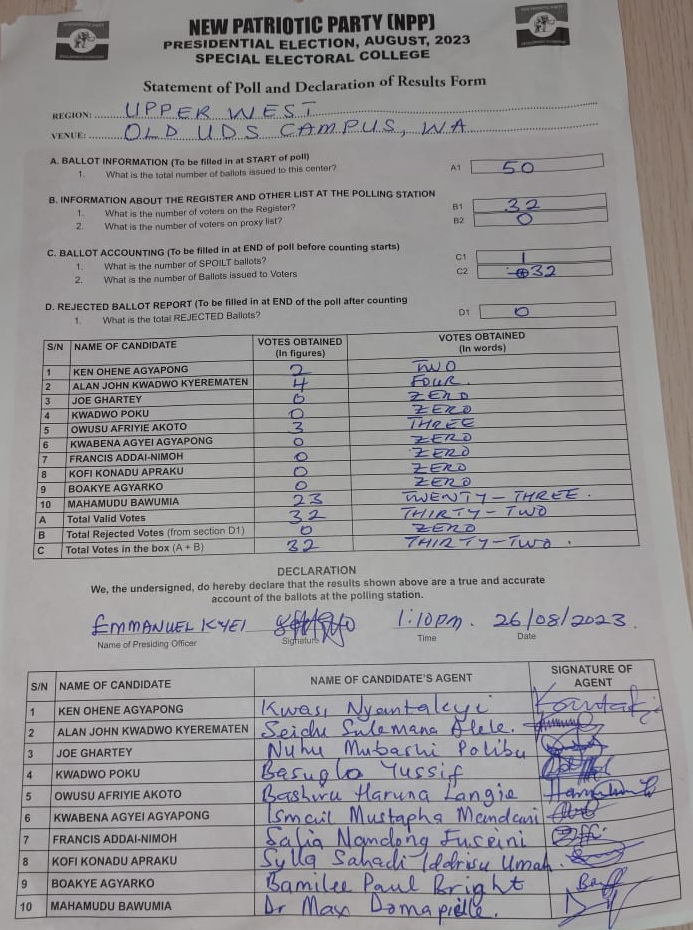 Oti
Ken 5
Alan 6
Kwadwo Poku 1
Akoto 2
Bawumia 16
Eastern Region
80/81 votes cast
1. Ken Agyapong – 8
2. Alan – 7
3. Joe Ghartey – 0
4. Kwadwo Poku – 0
5. Afriyie Akoto – 1
6. Kwabena Agyepong – 0
7. Addai Nimo – 1
8. Apraku- 0
9. Boakye Agyarko- 4
10. Bawumia – 59
Ashanti
Afriyie =5
Ken =6
Alan = 10
Bawomia = 97
Fist Five
1 Dr Bawumia
2. Hon Ken
3. Alan
4.Owusu Afriyie Akoto
5. Hon. Boakye Agarko
Below are the profiles of the 10 aspirants:
KENNEDY AGYAPONG
Kennedy Ohene Agyapong (born 16 June 1960) is a Ghanaian politician and businessman, who represents Assin Central in parliament for the New Patriotic Party.
He was first elected MP in 2000 for the seat of Assin North. He retained his seat in the 2004 and 2008 parliamentary elections.
In 2012, he was elected to the new seat of Assin Central and was re-elected in 2016. He also retained his seat in the 2020 general elections. He is currently the chairman of the Parliament's Defense and Interior Committee and an aspirant for the presidency on the ticket of the NPP.
Agyapong remains one of the politicians who have never lost elections. In July 2018, he was cross-examined for contempt of Parliament.
2. ALAN KYEREMATEN
Kyerematen is the immediate past minister of trade. Born on 3 October 1955, in Accra, Ghana, he has played a significant role in Ghana's political and economic landscape.
He was Ghana's ambassador to the United States and served as minister of trade and industry, private sector development (PSD) and presidential special initiatives (PSI) in the J A Kufuor administration. Kyerematen served as a trade advisor at the United Nations Economic Commission for Africa (ECA) in Addis Ababa, Ethiopia, where he coordinated the African Trade Policy Centre (ATPC).
Kyerematen made an attempt at the leadership of the New Patriotic Party in 2007, capturing 32.3% of votes cast. He was first runner-up to Nana Akufo-Addo who gained 47.96% of votes cast. Kyerematen made other attempts at the party's leadership in 2010 and 2014 but placed second to Akufo-Addo, who won the primaries.
Kyerematen is known for his impressive academic background, business acumen, and dedication to public service.
3. JOE GHARTEY
Joe Ghartey (born 15 June 1961, in Accra) is a Ghanaian lawyer, academic and politician. He is a former Attorney-General of Ghana (2006–2009), Second Deputy Speaker of Parliament (2013–2017) and Railways and Development Minister (2017–2021).
He is the MP for Essikado-Ketan.
4. FRANCIS ADDAI-NIMOH
Francis Addai-Nimoh was born on 23 March 1965. He is a development planner and civil engineer by profession. In 2008, he contested for the Mampong constituency seat on the ticket of the NPP, won and continued to serve in parliament until January 2017.
He contested the NPP's presidential primaries in 2014 and lost. After losing the NPP flagbearer bid in 2014, he attempted re-election in the parliamentary primary of the NPP in 2015 and lost.
Since taking leave from Parliament in 2017, Addai-Nimoh has become MD of his firm, Franstan Limited, overseeing construction projects and other endeavors involving the general distribution of supplies, namely bitumen.
He has previously worked for a number of engineering firms, gaining experience in data collection, road design, contract specification, construction supervision, and bitumen production. In 2004, the Ministry of Roads and Highways hired Addai-Nimoh as a senior engineer, tasking him with monitoring and evaluating all government road projects.
5. KWADWO POKU
Kwadwo Poku has worked on various projects for years at different levels in the energy sector. He brings excellent credentials to the aforementioned position with a strong 24 years of practical business experience.
He also serves as a board director of multinational companies such as Pan African Capital Ghana Limited, FIFC Management and Development Limited. He was the country director for GASOP OIL (GHANA) LIMITED from June 2002 to September 2012.
He worked as a special assistant to the late minister of tourism, Hawa Yakubu.
He was tasked to develop a Tourism Management Information System (TMIS), one of the flagship programmes for the minister. He designed the ministry of tourism's first website in 2001, which had a database of all tourist sites in Ghana.
He was also the liaison between the ministry and donor agencies that supported the ministry to develop their TMIS.
6. DR AFRIYIE AKOTO
Owusu Afriyie Akoto (born 19 October 1949) is a Ghanaian agricultural economist and politician. He was a Member of Parliament for the Kwadaso Constituency from 2009 to 2017.
He is the immediate past agriculture minister.
Afriyie Akoto was employed by the International Coffee Organisation in London, England, for more than a decade. Among the positions he held include economist, senior economist, principal economist, and chief economic advisor. He also served as a consultant to the World Bank (a United Nations agency) on soft commodities—namely, cocoa, coffee, and sugar.
He is credited for designing and implementing the government's flagship Planting for Food and Jobs programme, which was launched on 19 April 2017.
7. DR KOFI KONADU APRAKU
Apraku, born on 7 September 1954 is an economist and a Ghanaian politician. He was a member of the 2nd, 3rd, and 4th Parliaments of the 4th Republic representing the people of Offinso North constituency.
Apraku was minister for regional cooperation in John Kufuor's administration from 2003 to 2006. He also served as the minister of trade and industry from 2001 to 2003.
In 2008, he was appointed by the Economic Community of West African States Council of Ministers as Commissioner for Macroeconomic Policy and Economic Research.
He also liaised with the World Bank, the International Monetary Fund, and the African Development Bank, among other financial institutions, to support the development of ECOWAS regions as part of his mandate.
8. KWABENA AGYEI AGYEPONG
Kwabena Agyei Agyapong was born on 6 March 1962 in Kumasi. He is a civil engineer and politician.
His father, Justice Kwadwo Agyei Agyepong, was one of the Ghanaian judges who was abducted and murdered during the early years of Ghana's Provisional National Defence Council. Agyapong also worked with the Ghana Highway Authority. He also owns a civil engineering firm, Constro Consult Limited.
He became active in Ghanaian politics when Ghana re-entered constitutional rule after over a decade of military rule. He played roles in the campaigns of NPP presidential candidates Albert Adu Boahen in 1992, John Agyekum Kufuor in 1996. He also played a role in Nana Akufo-Addo's campaign to secure a presidential nomination in 1998. Agyapong still played a key role during the 2000 general election, which was won by John Agyekum Kufuor.
He served as the press secretary to president Kufuor from 2001 to 2006.
Agyepong launched his presidential campaign in July 2023 on the theme; 'New Dawn' which is aimed at ushering in a new dawn of astute political leadership with a clear vision and plan that inspires hope in the youth and rekindles the faith of all Ghanaians.
8. BOAKYE KYEREMATENG AGYARKO
Boakye Kyeremateng Agyarko is a Ghanaian economist, politician, and former banker. After graduating from Pace University, he was employed by the Bank of New York, the oldest bank in the United States.
He spent over 20 years at the bank and worked at senior levels in various departments of the bank. He left the bank after 22 years so he could contest elections in Ghana. While in the United States, he wrote a weekly column in The Statesman newspaper titled Letter from America from 1993 to 1998.
Boakye Agyarko began politics at an early age and was the national coordinator for the Ghana Union of Students and Youth Associations from 1979 to 1980. He was a founding member of the New Patriotic Party and has held several positions, including chairman of The Danquah Busia Club of North America and briefly serving as a Trustee of the Busia Foundation. He was elected the coordinator for the New Patriotic Party in North America and was the national campaign manager of the New Patriotic Party in the 2012 presidential election.
He was appointed the policy adviser to the presidential candidate of the New Patriotic Party, Nana Akufo-Addo, during the 2016 election. In January 2017, Boakye Agyarko was appointed the minister for energy in the Akufo-Addo administration. In 2018, he was relieved of his position.
10. DR MAHAMUDU BAWUMIA
Bawumia was born on 7 October 1963. He is the vice-president of Ghana. Bawumia was a deputy governor of the Bank of Ghana until his nomination as the vice presidential candidate of the New Patriotic Party in 2008, standing alongside presidential candidate Nana Akufo-Addo.
As a running mate, he ran alongside Nana Akufo-Addo in the 2012 general elections and was the lead witness for the petitioners in the 2012/2013 Presidential Election Petition which challenged the declaration of John Mahama as winner of the election.
The vice president is credited with the digitalisation legacy of the current administration which continues to serve as a catalyst for economic transformation.