The Nano Foods Limited, formerly known as Astek, a pineapple juice production factory at Nsawam in the Eastern Region which collapsed about 21years ago, as a result of financial challenges has finally been revamped to start production under the One District One Factory (1D1F) policy of the government.
The 77th 1D1F Astek factory currently operating under the Ghana Free Zones finally came into life by the efforts of the current Majority Chief Whip and Member of Parliament for Nsawam Adoagyiri, Frank Annoh-Dompreh, who made the collapsed factory to be revived
The Vice President, Dr. Mahamadu Bawumia at the commissioning of the factory, commended Mr Annoh-Dompreh for being instrumental in linking the NANO Company to the 1D1F Secretariat and the Ministry of Trade and Industry, and also the Ghana Export and Import Bank (EXIMBANK), the funding partner for the project.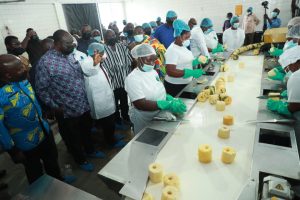 The Vice President touted the NPP administration's industrialisation drive, describing it as unmatched since Ghana's first President Kwame Nkrumah exited from the political scene.
The industrial transformation of the country, according to the Vice President, remains a top priority for the administration as they work towards adding on to the 76 functioning factories it has partnered with private entities to put up.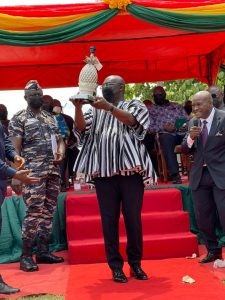 He said with the country's natural resources stashed in the districts, factories under the 1D1F policy are designed to add value to those resources with the ultimate plan of providing decent jobs for the teaming unemployed youth.
He further reiterated the government's commitment to transform the country aimed at turning the tide of unemployment and cut back on the importation of foodstuff.
The MP for the area, Frank Annoh-Dompreh indicated that the revival of Astek Processing Factory is good news for the nation.
According to Mr. Annoh-Dompreh, reviving the factory will promote economic activity and create jobs for the youth in Nsawam and surrounding areas.
He emphasized that the intention of building the Astek factory is not to collapse the Blue Skies factory but to compliment it for its good work done.
The Majority Chief Whip voiced out that he is proud to shame those who undermined the vision of the existence of the fruit processing company, assuring that he will be determined to lift Nsawam to a higher level.
At the event, Nano Foods indicated that it intends to export 70% of finished products to Europe, the Americas, and parts of the African continent.
The management of the company took the opportunity to present a silver molded in a pineapple form to the Vice President and also present a citation to the Member of Parliament, Frank Annoh-Dompreh for his immense contribution to reviving the factory.