Local News
NSS Allowance For January To Be Paid On March 22; Arrears To Be Disbursed Later – NASPA President
Over the last couple of days, scores of National Service personnel have taken to social media to lament the delay in the disbursement of their monthly allowances.
In a series of tweets and comments monitored, the personnel said the delay in the payment of their allowances has made life difficult for them; especially in the wake of the recent economic hardship.
However, the aggrieved personnel may be able to heave a huge sigh of relief, following a release by the National Service Personnel Association (NASPA), on Saturday, March 19, 2022.
The statement, which was signed by the National President of NASPA, Emmanuel Brimpong Akosah, revealed that payment of allowances for the month of January will be made on Tuesday, March 22, 2022.
According to him, discussions are ongoing for the remainder of the allowances to be paid later.
"We acknowledge the concerns of NSPs and the difficult times personnel in the country are going through. It must be noted, NASPA is and remains the only body that has the mandate to make representation on behalf of National Service Personnel in the Country.
Upon a series of deliberations with Management of the National Service Scheme, (NSS) we can authoritatively confirm payment of allowance for the month of January will be made on Tuesday, March 22 while we implore the Management of the scheme to facilitate payment of allowances for the months of February and March in the shortest possible time", portions of the statement read.
The Association also urged its members to "remain calm while the National Leadership engages the Management of the NSS and other stakeholders to find lasting solutions to avoid incurring untold hardship for our members."
The NASPA said it remains committed to championing the interest and concerns of all of its members.
Read the full statement below: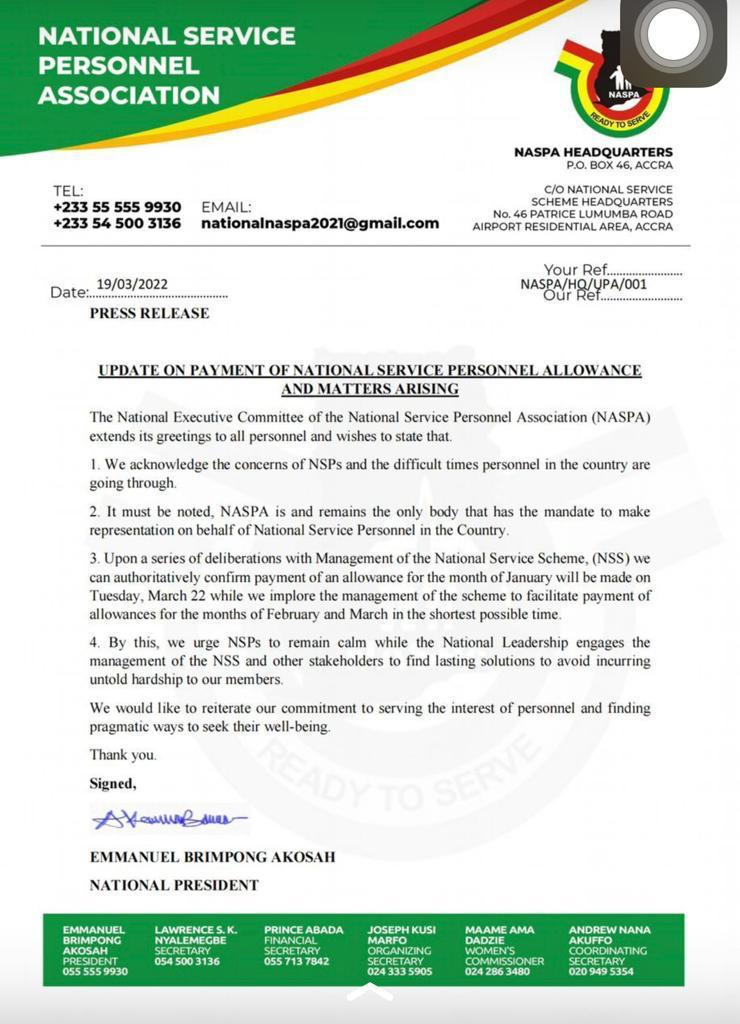 #Ahenkanfmonline.com / 93.3 FM